1. Choosing the right clip in hair extensions...
These days you don't have to be a celebrity and spend all day at the salon to get beautiful, flowing locks.
With hair extensions now so readily available, this is a goal that can be in everyone's sites. And in a fraction of the time.
When it comes to Hair Extensions there are several decisions you need to make. The first is whether you want to go for clip-ins or something more permanent. Both have their advantages.
Here we take a look at five reasons why clip in hair extensions are such a popular choice.
Here are 5 Great reasons to have clip in hair extensions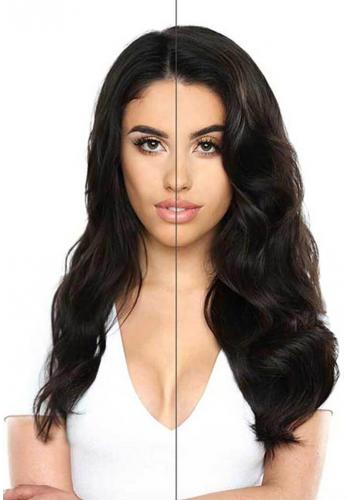 2. You can vary your style
The great thing about clip in hair extensions is that they, well, clip in and out. This means you can mix up your style as often as you like.
If you want a shorter, quick to manage style during the week for work or the gym, you've got it. Then come the weekend or a great night out – in with the hair extensions and within minutes you've got long, flowing locks.
Clip-in hair extensions are a great way to add instant length to your hair. They are perfect if you want to create a special style for a party or a night out but don't want a permanent change.
3. You can style them just like permanent extensions
Once your extensions are cut into your natural hair, the sky's the limit when it comes to styling.
Oh, unless you've gone for synthetic extensions that is.
You can't heat synthetic extensions, so your styling options are greatly reduced which kind of defeats the object.
So the use of straighteners or tongs is s definite no no!
4. They are cheaper than permanent hair extensions
There's no denying that hair extensions are expensive.
But if you don't want to wear them all the time, clip-ins do offer a more cost-effective option. Having said that, go for the best quality you can afford and steer clear of synthetic extensions.
At Lifestyle, we choose Beauty Works hair extensions for both our clip-ins and permanent hair extensions.
This is because they use the best quality, Remy hair. They have an amazing range of colours, so we know we're going to get the best possible finish for your hair.
5. They are easy to maintain
Clip in extensions are not designed to wear all the time.
In fact, you absolutely should not wear them all the time.
And because you're only wearing them occasionally, they'll only need washing occasionally.
Remove your extensions before washing them and make sure you use a sulphate free shampoo.
Get some advice about shampoos and conditioners from your salon. Because even some big high-street brands can damage hair extensions.
Ask your salon what they would recommend.
Free Consultations
Clip In Hair Extensions at Lifestyle Salons
At Lifestyle, we use Beauty Works Hair Extensions which are some of the very best available.
We offer a free consultation where we'll recommend the best colours and lengths to achieve your desired look.
We'll then cost everything out for you so you know exactly how much it's going to be.
Once your extensions arrive (usually the next day) we offer a half-hour appointment when we will:
• show you how to insert and remove your extensions without causing any damage to your natural hair.
• give you styling tips and advice so you can make the most of your longer, fuller hair.
• explain how to care for your hair extensions so they last longer.
To book a free Hair Extensions Consultation, call your local salon