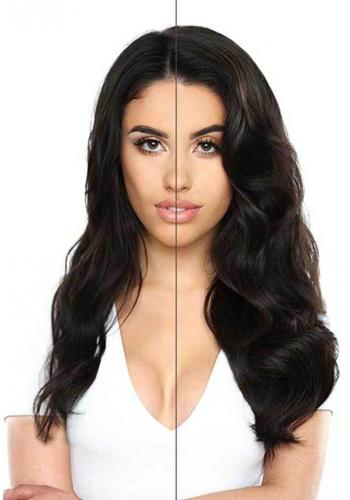 Choosing the right hair extensions...
Get it right, and you can end up walking out of the hairdressers with beautiful, fuller and flowing locks and instant length. Get it wrong, and it can be a very costly and time-consuming mistake!
On the whole though, chossing the right hair extensions is a wonderfully simple way to change your look. And no need to wait for your natural hair to grow.
They are easy to maintain and when you do get bored of them they're easy to take out.
So what should you know before choosing the right hair extensions for you? In this article we've created a short list of the different types and the do's and don'ts.
Choosing the right hair extensions – Real or Synthetic?
There are several suppliers of real hair extensions. These tend to be slightly more expensive but for a reason. That reason is they look natural.
And if you're worried about matching your hair colour, Don't be! Most hairdressers will be able to match your natural colour and create a seamless match to your new extensions.
That means you'll walk out of the salon with stunning new hair that looks like yours!
Now, the quality of synthetic hair can vary greatly. But synthetic hair is generally stiff and moves differently from your own hair. It's unlikely they will blend with your hair as well as real hair extension. But on the plus side they are usually less expensive.
Choosing the right hair extensions – Wefts
Another technique is using wefts. This technique places wefts of hair in amongst your own hair. Using small 'micro beads' to fix the weft to your natural hair.
This type of hair extension does not use glue or heat. Instead, the weft is sewn into the space between the bead and your hair. Alternatively, they can be sewn into a small braid and attached that way.
It is quite a quick technique and therefore offers an affordable alternative. The other advantage is that the hair can be reused at a later date. This is ideal if you like to change your look on a regular basis.
Choosing the right hair extensions – Nano Loop
Nano Loop or Nano Ring hair extensions offer a very natural looking extension. The other great advantage as they are very gentle on your natural hair.
They work by clamping a pre-made weft close the root area. The weft has a 'loop' to hold the weft in place.
Generally speaking, Nano Loop hair extensions are quite quick to apply and look very subtle and natural. Although everyone is different, Nano loop hair extensions generally last 6 to 9 months.
This makes them a very cost-effective form of hair extension.
Choosing the right hair extensions – Keratin Bond
Keratin Bond hair extensions use the best quality, Remy real hair. This is carefully placed close to the root and attached to your hair. This is done with heated keratin protein that then seals the extension to your hair.
Once completed by an expert, the look is very natural and it's hard to tell that you have extensions at all!
One of the other benefits of Keratin Bond hair extensions is that they need little maintenance.
Once fitted, they can last up to 4 to 6 months. And they are especially good for fine hair. This is because the hairdresser can match the fineness of the extension to your own hair.
Although they're low maintenance, be prepared to sit for a couple of hours with your stylist to have them placed. It is also worth mentioning that they can cause some damage to your natural hair if treated roughly.
But if your prepared to treat them with a bit of TLC then you'll enjoy fuller, longer hair for months!