Meet Our Amazing Team...
The heart of our whole business is our amazing team… The perfect combination of friendliness and expertise…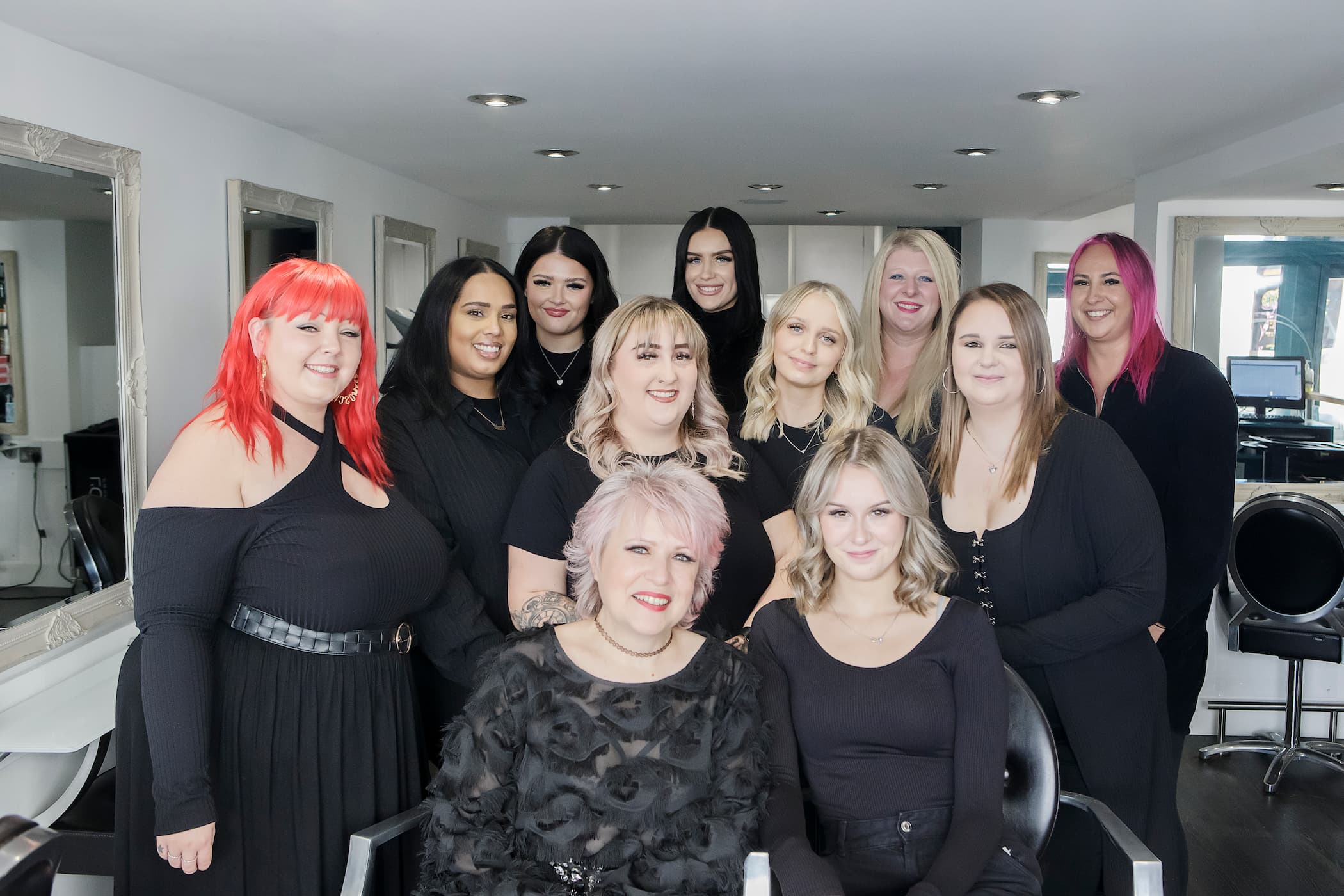 Katy

Salon Manager - £61

Meet Katy, the hair enchantress with a wealth of experience, transcending the role of a typical hairdresser to become an artist. Her mission? To sculpt unique looks that embrace the individuality of each client. Beyond the cut and style, Katy finds joy in the pure delight that lights up her clients' eyes upon seeing the masterpiece she's crafted. But Katy's magic extends beyond styling; she's a colour wizard with top-tier qualifications, skillfully tailoring techniques for every occasion.

For those seeking a stylist who not only knows the ropes but dances through them with flair, Katy is your go-to girl. From personalized looks to setting style trends, she blends skill and excitement, promising a delightful hair journey.

Josie

Salon Director - £61

Meet Josie, an immensely experienced stylist who finds great pride in her craft. Her meticulous attention to detail sets her apart, and she attributes her success to fostering strong relationships with all her clients. Josie is not just a stylist; she's an artistic hairdresser who enjoys creating stunning work, especially for the camera. Despite her artistic flair, she firmly believes that successful hairdressers listen to their clients, ensuring the looks they create truly suit them.

Beyond the salon, Josie's life is enriched by family time, power walks, exploring new places, and a love for charity shop adventures. Her passion for both her craft and personal interests underscores her versatile and vibrant approach to life, making Josie not just a skilled stylist but a warm and engaging presence inside and outside the salon.

Sam

Creative Director - £55

Meet Sam, a seasoned hair maestro boasting 19 years of expertise. With a vast reservoir of knowledge and creative ideas, she's your go-to guide for finding the perfect look. Sam's passion lies in the art of cutting; she thrives on crafting precise cuts that endure for weeks on end. Witnessing a client confidently leave the salon with a cut that's not just right but perfect fills her with immense pride. For Sam, the joy is in knowing that her meticulous work has brought happiness to her clients. With every exact cut, she transforms her passion into a lasting impression, leaving clients satisfied and confident in their newfound style.

Elisa

Creative Director - £55

Elisa's journey into the world of professional hairdressing was a natural evolution from her teenage days of experimenting with cutting and colouring her own hair. Fueled by a passion for making people feel fantastic both inside and out, her extensive knowledge has made her a beloved member of our team. Her warmth and expertise extend beyond the salon chair, creating not just beautiful hairstyles but also fostering a positive and enjoyable experience for everyone she encounters. With a perfect blend of skill and a welcoming personality, Elisa has become a sought-after team member, leaving a trail of satisfied clients and happy vibes in her wake.

Keira

Principal Creative Designer - £50

Keira is drawn to the hairdressing industry by her love for connecting with people, boosting their confidence, and bringing joy into their lives. The sociable nature of the career resonates with her, and staying updated on new fashions and trends serves as a constant source of motivation. Among her hairdressing passions, colour holds a special place for Keira.

Infused with a great sense of humour, she playfully directs her wit towards the boss, adding a touch of levity to the workplace. Keira's genuine enthusiasm and people-centric approach make her not just a skilled stylist but also a delightful presence in both her professional and personal spheres.

Maisie

Creative Designer - £42

Meet Maisie, the confident and personable hairdresser who takes pride in getting to know her clients on a personal level. Her joy lies in crafting looks that not only suit the individual but are also easily manageable for them. Ensuring everyone leaves the salon pleased with her work is a top priority for Maisie. Beyond styling, she has a particular passion for colour, skillfully creating looks that complement the perfect cut.

Outside the salon, Maisie enjoys socializing with friends, indulging in restaurant outings, and taking leisurely walks. Her approachable nature and dedication to client satisfaction make Maisie not just a skilled hairstylist but also a friendly presence, adding warmth to both the salon and her social circles.

Carla

Meet the dynamic force of style, Carla a young luminary in the realm of hair artistry. With scissors as their wand, they weave magic into every strand, effortlessly marrying trendiness with individuality. Carla possesses a seasoned skill set and an innate flair for understanding diverse tastes. Clients are not just patrons but collaborators in the creation of personalized masterpieces.

Bursting with energy, passion, and an unwavering commitment to innovation, Carla is carving out a vibrant path in the world of hair design, leaving behind a trail of delighted clients and a legacy of style.

Sophie

Principal Designer - £35

Meet the extraordinary talent that is Sophie, a maestro in the art of hairstyling who transforms locks into masterpieces. With scissors as their paintbrush, Sophie crafts a symphony of styles that resonate with individuality and flair. Bringing a unique blend of creativity and technical expertise to the salon, they are not just a hairdresser but a visionary sculptor of personal expression.

Known for their infectious enthusiasm and warm charisma, Sophie creates more than hairstyles; she curates experiences that leave clients feeling empowered and confident. With an extensive repertoire of trends and techniques, Sophie approaches each client as a canvas, ensuring that every snip and style is a reflection of the individual's personality and lifestyle.

Rachel

Receptionist

Meet Rachel, the cornerstone of your customer experience as a stellar receptionist. With a winning combination of warmth, professionalism, and organizational prowess, Rachel sets the stage for an exceptional visit. Her welcoming smile and genuine enthusiasm greet you, creating a positive tone for your entire experience.

Rachel's exceptional communication skills ensure the seamless flow of your appointments and the fulfilment of all your needs. Her keen eye for detail guarantees that your bookings align precisely with your preferences, and she acts as a reliable liaison between you and your stylist. Rachel goes beyond the role of a receptionist – she becomes a crucial link in ensuring that your time at our establishment is not just a service but a personalized, enjoyable experience.

Abby

Apprentice Hairdresser

Meet the rising star of Aylesbury's salon scene, Abby. A dedicated hairdressing apprentice, they infuse the town with a fresh breeze of creativity and skill. Amidst the buzzing clippers and vibrant hues, Appy is honing their craft with passion and precision. Eager to learn and quick to adapt, they bring a youthful exuberance to every haircut, turning heads and creating smiles.

Aylesbury's locks are in capable hands as Abby blossoms into a promising talent, leaving an indelible mark on each client's experience and setting the stage for a dazzling future in the world of hairstyling

Maddie

Apprentice Hairdresser

Meet Maddie, a rising star in the world of hairdressing, weaving dreams into strands and transforming tresses with creativity and flair. As an enthusiastic apprentice, Maddie combines passion with precision, creating hairstyles that reflect a harmonious blend of artistry and technical skill. With an eye for detail and an ear for client aspirations, Maddie listens intently, ensuring each haircut is a personalized masterpiece.

Beyond the salon chair, Maddie is a dedicated learner, absorbing knowledge like a sponge and turning challenges into opportunities. Whether mastering the latest trends or perfecting classic styles, She approaches every task with a positive spirit and an unwavering commitment to excellence. Colleagues admire Maddie for her vibrant energy, team spirit, and genuine love for making people feel confident and beautiful.